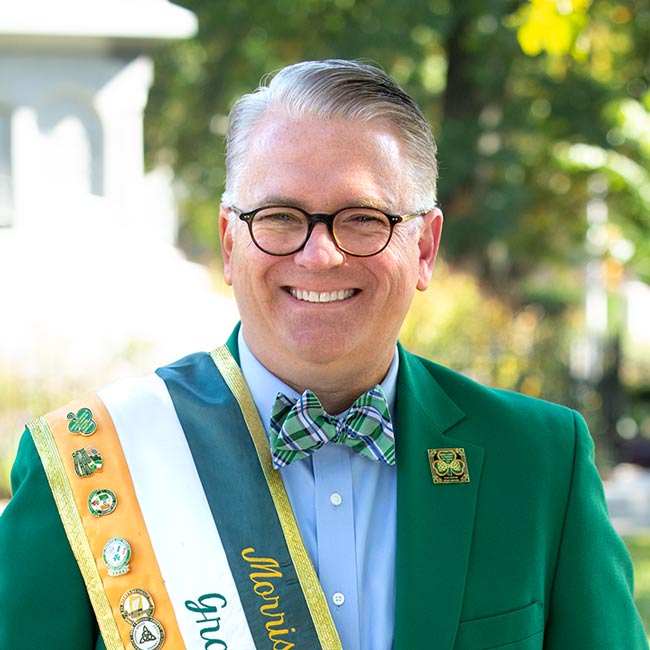 The Morris County Saint Patrick's Day Parade Trustees have chosen Ryan G. Dawson as its 2023 Grand Marshal. Ryan was born in Morristown, the eldest of four siblings. His father, Raymond "Skip" Dawson Jr., grew up in Boonton. His mother, Kathy Rodman, was from Morris Plains. Ryan's formative years and education were in Florida. His family moved to Coral Springs after his father took a new job. In 1993 Ryan moved back to his roots in Morris County, moving to Boonton to be closer to his grandparents. His first job was with CNA Insurance in Parsippany. He was there for 11 years in various positions, his last being a claims examiner for their Group Benefits division. Ryan refers to 2003 as the most pivotal event of his life. He earned his New Jersey Real Estate License and began a two-decade Morristown career with Weichert, Realtors. With a passion for meeting new people and networking, it didn't take Ryan long to become a top producer in his office. Over his career, he has helped an estimated eight hundred families totaling almost $400,000,000 in transaction volume. Ryan is proud to be a member of the Weichert, Realtor's Chairman of the Board Club, a New Jersey Realtors Circle of Excellence & Distinguished Sales Club Award winner, and numerous company and office distinctions. He credits Jim Weichert and the company he founded in 1969 for everything he has today.
The second watershed life moment of Ryan's career was joining the Friendly Sons of St. Patrick of Morris County. An active member for the last 14 years, he worked his way through the ranks and became club President in 2016. His favorite day of the month is the second Thursday for the monthly meeting. Some of his favorite moments with his Irish brothers include attending Friendly Son conferences around the country, participating in Irish History bus trips to New York City, and grabbing a casual pint with his friends at Dublin Pub, Grand Café, or Grasshopper off the Green in Morristown.
Ryan has been an ambassador of the Parade and its mission. He served as Co-President of the St. Patrick's Day Parade of Morris County from 2016 through 2018 and Finance Committee Chair for over ten years. Ryan says the committee's proudest successes during that time included increasing the number of large corporate sponsors, rolling out the new Parade Patron program, and organizing several "Thank You" parades and food drives during Covid to support the courageous staff of Morristown Medical Center. The Parade Patrons are a dedicated group of people who support the Parade's principles, traditions, and charitable giving. The parade has been able to distribute hundreds of thousands of dollars to local charities due in part to the efforts of what Ryan calls a "well-oiled machine" of volunteers. These charities include Project Children, Project Graduation, Mrs. Wilson's House, St. Paul's Orphanage, Dress for Success, and the Market Street Mission.
Ryan gives much credit to his grandfather, Ray, for his desire to volunteer and give back to the community. "My Grandfather was the ultimate role model. He owned his own business (Dawson Marine in Ledgewood), was a people-person with tons of friends, and always supported the community." In addition to Ryan's work with the Irish Community, he is a Trustee of the Morristown Partnership, Treasurer of the Center for the Study of Small Towns and Cities in Boonton, Vice President of Technology & Communications of the Washington Association of New Jersey, and Vice President of The Morristown Club. In addition to his numerous leadership roles, Ryan is a 4th Degree Knight at the K of C George Washington Council #359, a member of The 200 Club of Morris County, Brookside Community Club, Green Pond Historical Association (Ryan's family was instrumental in the history of Green Pond in Rockaway), Friends of the Chapel of Four Chaplains, and the Historical Society of Somerset Hills. Ryan is especially proud of his financial support of Impact 100 Garden State, an organization built on the power of women's collective giving. Impact 100 gives an estimated $100,000 in grants annually to local charities and causes (impact100gardenstate.org).
Ryan is the first to tell you he is not one for "downtime" or spending the day playing golf. Having a knack for organizing and fundraising, he loves to take on a new project and help bring attention to a cause and make a difference. Some of these projects included securing funding for restoring the gilded eagle that sits on top of the flagpole on the Morristown Green; bringing attention and funding to the Orchard Street Cemetery in Dover after it was vandalized; spearheading the 2022 Morristown for Ukraine event that raised over $20,000 for the Ukrainian relief effort. His latest project is the restoration of the Revolutionary War reproduction cannon in the Washington's Headquarters neighborhood across the street from Morristown's Acorn Hall.
Ryan's true passion is genealogy and his deep roots in New Jersey. He is a member of the following lineage societies: the General Society of Mayflower Descendants and Sons of Union Veterans of the Civil War. Ryan's second great-grandfather, James A. Morrisse, arrived from Dublin just before the Civil War. He enrolled in the 2nd Michigan Cavalry and saw several battles. He would eventually move to Paterson to open a real estate and insurance business. On the other side of the family, Esli Dawson of Boonton served in the New Jersey 27th and 33rd during the Civil War. Esli is a registered Morris County POW imprisoned by the Confederates at Libby Prison in Richmond, Virginia. Ryan is a member of the Sons of the American Revolution and the Johannes Schwalm Historical Association (a society for those with a direct lineage to a Hessian soldier who fought in the American Revolution). Ryan has ancestors on both sides of the Battle of Trenton, which took place on Christmas Day, 1776. On the Patriot side, his ancestor was a member of the Rhode Island Militia who crossed the Delaware River with General George Washington. On the other, a young Hessian soldier with General Johann Rall's regiment was captured, released, and settled in Hunterdon County after the war. Ryan's Irish roots lay on both sides of his family. His ancestors emigrated from Dublin and Limerick to the towns like Paterson, Jersey City, and New Brunswick. All arrived with nothing but eventually took part in the American Dream by working hard and taking a chance.
Ryan and his wife Melinda (nee Harrington from County Cork) live in Mendham Township with their cherished rescue dogs and cats. They have been married for over eleven years. Ryan credits the support of his wife for allowing him to take on what he does and keeping him grounded. Ask Ryan's friends and family…it is Melinda who holds everything together while he is trying to save the world.